Ball makes more than one canning book. DebFred, whatís the title on yours?

Iíll repeat some things Journey said just to try to be clear. There are two kinds of canning, Water Bath and Pressure Canning. The big difference is that the botulism bugs cannot live in certain high acid or high sugar foods so you donít have to get them too hot which often helps with consistency, like with pickles. You have to get the foods that botulism can grow in up to about 240 degrees Fahrenheit. The only way you can do that is to cook them under pressure. How long you cook them under pressure depends on their density. Different densities heat up at different rates.

I recently looked this up. There are about 25 cases of food born botulism in the US every year, with maybe 2 people that get it dying. The cause of most of those cases is poor home canning techniques. Thatís why Journey emphasized following the recipes pretty closely. If you think of how many people in this country can at home, and you have to assume that some donít follow the recommended techniques, thatís really not many people. Iím not giving these numbers to frighten you away. Iím giving them to show how safe it really is if you follow the recipes.

I recommend you get a canner that can do both water bath and pressure canning. When you water bath the water needs to cover the jars by an inch or two. That limits your capacity. With pressure canning, you mainly have to make sure it has enough water to not cook dry. You have three choices for jar size, quart, pint and half-pint. My canner can water bath 7 quarts, 9 pints, and a bunch of half-pints. In pressure canning it can handle 7 quarts, 18 pints, and a whole lot of half-pints. Iíve only maxed the floor space out with half-pints once and canít remember how many it took. My brother has one that will only handle 4 pints pressure canning. Canning green beans takes him a while. Do watch the capacity of what you get.

There is just me and my wife so most of my vegetable canning is in pints, though I put soup and dill pickles in quarts. Pints and quarts come in regular and wide mouth. Those wide mouths are really nice for pickles and things that are in big chunks.

Other than a good book, Iíll recommend a few accessories. Youíll find a couple of small towels to set things on and a couple of trivets come in real handy. You need a timer. Hopefully you have those.

Youíll need a jar lifter. The kind Iím talking about is that red thing in this photo.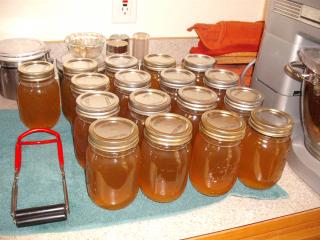 Youíll need a funnel and a ladle like these. I donít like this ladle. The top is too heavy so it tends to fall out of bowls and such. I like it being big and plastic and easy to pour with.



Youíll need something to get rid of air bubbles. Use plastic, not metal. You donít want to take a chance on scratching a jar. I use a chop stick for quarts but find a simple plastic knife like you use for picnics to work really great. One problem with the chopstick is that it is pretty thick when you try to get it in a jar of chunky things. That plastic knife is thin enough to get around the outside of the jar pretty easily. One problem with the plastic knife is that it is not long enough to reach the bottom of the quart jar.

The only other thing I can think of that you need is the most expensive after the canner itself. You need a good stainless steel stock pot. You donít want aluminum because acidic foods will absorb the metal. I got a 12 quart one that works real well with the capacity of my canner when pressure canning pints. It has marks in it to show how much you have in it. That comes in real handy when you are deciding how many jars, lids, and rings to prepare.

Itís an investment but I find it real nice to be able to preserve things that I grew and wonít go bad if you lose power to your freezer. Canned foods are more convenient than frozen foods too. There are a lot of little tricks and such we use to make things easier but Iíve already written too much. Weíll probably mention a lot of those during canning season so pay attention. And never be afraid of asking questions.

Hope this helps some.
---
Zone 6/7 Border

Those that ignore the past are bound to repeat it. Those that study the past have to live with the majority that donít, or worse yet, those that misinterpret the past. ~ stolen and mangled by Ridgerunner