See ducks4you's other pages: 2010-garden;



March 25, 2010

Felt like I ought to start a page.  I live on just under 5 acres of post-glacial farmland in Central Illinois.  We moved out to a little 200 person town so that I could have my horses in the backyard.  It seemed obvious to garden, and I've been dallying at it for about 5 years.  This is March, 2007.  It looks a lot different now, because of the new fencing, but this shows my back yard pretty clearly.
Today-->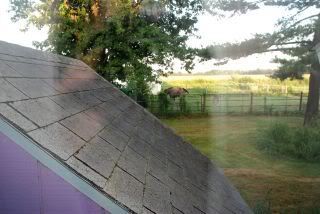 <--By October, this won't be here!  =D

April 27, 2010

Picked up the John Deere riding mower from the John Deere shop north of Urbana--yearly checkup.  Took about 15 minutes with the guy on the floor, to "window shop" small tractors, because I've been looking at magazine ads.  Their basic unit runs about $12,500.  I would need a front scoop (for dirt, snow, etc.), and a mower base and a box to plug it and heat the diesel engine in the winter (like my trucks have.)  With these additions, it would be closer to $18,000.  Friends had suggested a Bobcat, but when I researched them, they were more expensive.  I'm looking forward to my new tractor--in the future, now!!   Definitely decided I will buy from them.  They sell and maintain everything, from my sized mower to the "big boys" that work the fields.  They can also put on any additional attachments I might want to buy AFTER purchase.

April 29, 2010

The 3 x 6 raised bed for lettuces, etc. is doing nicely.  I also have radishes, green onions and marigolds sprouting.  The 2 over-wintered geraniums I put out are doing well, and the rest will go out this weekend. Yesterday I mowed the "orchard" area, in front of and to the SE of the barn.  It was up one foot high.  My trimming mower struggled--it took 3 hours to mow 1/4 acre--RIDICULOUS!  And, to top it off, it isn't level.  The dog we couldn't keep who tried to dig to China, and the fencing people (from February, 2008) have left ruts that are still there.  I had an epiphany, probably from the Holy Spirit:  Mark off areas that are rutted with spray paint;  Till those areas; and, plant sweet corn, beans and squash, ala "3 Sisters."

May 3, 2010

I  F I N A L L Y  got my 2009 blackberry bushes   INTO  THE  GROUND!!!!!!!!!!!!!!!!!!!!!     

They survived the winter in my basement, grew 3-4 ft sprouts in a NORTH facing window.  I gave each of the two of them a chopped down 8 ft sapling stick to latch onto.  Planted gladiola bulbs around my cement "rocks" by the street--too hard to cut the grass around them.  Put in sugarsnap peas (direct sow) into their bed, with a wooden border fence to climb.  Threw some (older) sunflower seeds in (south side of garage, again)  AND  pulled some WEEDS out of my lettuce raised bed--I think that constitutes as un-planting.
DH and I took down ALL, yes I said ALL of the saplings that have grown up in the last 2 years along the (south side) North Pasture fence and the (east side) North Pasture fence.  I threw them over the fence into the pasture to clean up later.  NOW, I get to look at my work when I drive away and when I drive home!!!!  DH and I also took down 7 way overgrown evergreen bushes planted by the previous owner (20 years ago) on the South Side of the garage.   We took them out to the burn pile and fired 'em up.  I HAVE to take a picture of the practically non-existant burn pile.  As soon as the saplings are moved there it won't be down to nothing anymore.  Don't know what I'd if I didn't have my (enclosed, screened-in with windows, 12ish x 25ish) front porch and my 4 (2 flat, 2 glider) super-comfy, Amishn made Adirondack chairs to take my work breaks on.  DH and I took 2 cigar smoking breaks in-between the cutting and the hauling and the burning.  My fire even survived the rain Saturday night.

Here are my plans for the south side of the garage:  Plant Blackberry bushes--oh, yeah, already did that!!! ha ha!!!!! ; plant corn, more sunflowers, beans and transplant 10 zuccini (when they get a little bigger than 3 inches tall. 

May 8, 2010

Planted potatoes south of the garage.  Finished 2 raised beds in the (original) 10 x 20 garden bed. I had to fix my original 10 x 20 bed, I laid down stall debris the WHOLE winter so I could kill a weed tree (tree of paradise) and fix the dip.  So, I looked long and hard at the 10 year old wood pieces the previous owner left (and others) and decided to put up temporary beds with these pieces since they really were not in good enough shape to build anything else.  I leveled out the "mulch", built the beds, then transported all the dirt from the horse's turnout areas. I left the mulch in-between the beds to keep down those rotten weeds!!!  Don't think the wood will survive the winter, so at the end of the season it all goes to the burn pile. 

I like the looks of the bed on the west side of the garage, too.  There I have planted peas and onions amongst the rubarb, mint, next to the hydrangea (baby) bush, between the strawberry yarrow and between the chrysanthemums.

DRAT!!  My tiller tire has gone flat.  Still need to till some more.

May 11, 2010

Planted Ancho Problamo Peppers and onions in the 3 1/2 ft x 2 ft west garden bed. (I still need to throw some Jalepano Pepper seeds there, too, so I can make some bug spray from the fruits.) Filled the east-west (northmost) garden bed with soil.  It still needs a little bit more, and will be 3-5 inches deep.  I had to fill my 500 pound max pull-cart to the brim and pull it with the John Deer riding mower, else it would have taken my 3-5 wheelbarrows full--don't think I could have physically managed THAT!  =( 

I took about 1/4 of that bed and planted sweet peppers, both green and multi-colored, and finished planting yellow onions.  I now have 200 sweet onions in the ground, divided among 4 different beds, INCLUDING the north-facing, north of the garage flower bed.

Unfortunately the radishes in my "Salad Bed" are getting shade from the lilac bush to the south of the bed, and are having a hard time bulbing.  I only have 3 radishes so far, with about 50 plants with 8-10 inch leaves--I ought to be harvesting them, now.  Guess I'll have to pull them and, maybe, plant some onion SEEDS in their place.  I wonder if my chickens like the leaves, hmmm.....

May 15, 2010

WHAT  A  WORK  DAY!!  DH & I picked up 7 loads of saplings that we cut 3 weeks ago and hauled them to the other side of the North Pasture, to start a new burn pile.  Then, DH mowed down the weeds in 2 of our pastures, so now you only see the clover growing.  =D

I finished (probably) the last 2 raised beds.  They are both approximately 4 x 6 ft., one 4 inches deep and one 6 inches deep.  I finished planting in ALL of my raised beds.  The first new one--directly south of the l-shaped connected beds--is full of beets.  I made sure to mix in ashes from my burn pile to help them.  The 2nd new bed, directly south of and parallel to the "Beet Bed" is planted with okra, radishes, extra spinach and extra cabbage.  Planted all of the rest of my onion sets, and there are now 300 onion sets in the ground spread between several beds.  I cannot say for sure, but I believe that my 4 x 6ft by 4 inch bed took approximately 600 pounds of dirt.  It was the equivalent of 4 very large wheelbarrows full of same, and about 1/8th of the volume of the back of a full truck bed, level with the sides, with the tailgate up.  (Just a perspective.) I moved 2 full tow wagons and 2 wheelbarrows full of the same today. My muscles really feel the tilling of the soil from my 7 year old aged manure pile, AND shoveling into my tow/dump wagon and moving my wheelbarrow.  It was lightly drizzling, so that made it all heavier. PLUS, the pile was in horse turnout, and THEY thought I was tilling this (FOR  THE  THIRD  TIME!!) for them to enjoy rolling in!!  =D  I left my tow wagon temporarily, then turn around and they are walking though the newly tilled dirt, rolling in it and pulling my dump wagon slide back off of it!! No kidding--I found it 7 feet away and slightly bent, from "pony play." (BTW, even LAST year this pile had some pine shavings which had not rotted and it took until this year for those to turn to dirt.)

ALSO, this same day, I took my tiller to all of the rutted areas in my "orchard," rutted from the 2008 fencing job, from their heavy equipment.  I really cannot explain how they look, just that 3 rectangles are separate, and 3 are connected.  Between and amongst the pear tree, the two cherry trees, the two apple trees and the peach tree, I planted millet and sunflowers, from wild bird feed I bought for that purpose last February, in two of the "beds", and sweet corn scattered throughout the 3 bigger "beds" and the tilled path that connects them.  With the corn are cucumbers, pole beans, acorn squash, zuccini squash, yellow crooked squash, cantaloupe, one separate "bed" has watermelon in it, and one connected bed has pumpkins. I didn't stoop down to carefully plant.  Instead, I scattered, then took my rake and gently covered all of the seeds. I'm driving to SD for my vacation next week, so I might see some baby plants when I return.  REGARDLESS, these areas were rutted just enough to make them difficult to impossible to mow, so after I till under same areas this fall, next year they should be finally level.

May 16, 2010

WHAT LUCK--constant, steady rain the day AFTER I have planted!!!  I ought to see some sprouting before I go.  Actually, I saw some of the cucumbers I planted have popped up, and they were seeds saved in 2008, to boot. There are also green and red cabbage up with their sweet little clover-like leaves.

June 1, 2010

VACATION  REPORT

I JUST got back from vacationing in the Black Hills, SD.  Pretty yucky weather for a May vacation!!  Here are some articles about May 24th in particular~

http://www.ksfy.com/news/local/94797294.html
http://celebrifi.com/gossip/Deadly-Sout … 48674.html
http://www.digitaljournal.com/article/292418\
Here we are, camping with our horses, getting way more rain than we had counted on.  I went to the campground "bunkhouse" on the morning of the 24th to check weather.com.  There was a severe storm/tornado watch predicted, that was the width of the Dakotas and ran from Canada to Mexico.  I went to check hour-by-hour and they predicted violent storms to begin at 1 PM.  Sure as shootin' they did.  We had torrential showers with intermittant pea size to quarter size hail.  It cleared a bit around 5 pm, they took up again at 9 pm.  I don't remember WHEN the 50 mph+ winds with spitting rain stopped, but I did wake up to a clear sky at 3 AM.  This was a 14-15 hour mammoth storm.
In Hot Springs, SD they had softball sized hail with great damage.  On May 26th, East of Denver had worse--they took out their snowplows to clear the roads of hail.

 June 3, 2010
 
I finally took time this week to read ALL of the Spalding Fly Predators manual.  They emphasize keeping the grass down because flies need places out of the sun to rest, and they adore high grass.  I have become a mowing fool.
 
Mowing with my cheaper (of the two) mower last night.  I knew that it was struggling with the wet grass and having to trudge through the leavings of the riding mower.  My spark plug blew off--NO KIDDING!!!!  This is the second time it's done this.  OBVIOUSLY, the engine is overheating.
 
June 4, 2010
 
Picked up my good push mower, with the bag and the big back wheels, from the mower shop.  For $25.10, with a new blade--bent the last four inches of the old one!!--and adjusted wheels, it mows just like I bought a new one. Took advantage of the long days, and finished mowing my "orchard" area, AND finished tilling the tomato garden.
 
June 6, 2010
 
Been home from vacation one week now.  I'm pulling the "radish-looking" weeds from my beds to discover LOTS of beets, okra and, I think, peppers.  I have 13 tomato plants in the ground, and over 50 in pots awaiting transplant.  I guess that when the garden is full the others will have to be put on the fence line (on my side, of course!!) by the street.
 
Tilled the tomato garden Friday night.  Interesting how the stall cleanings that I put out there last winter struggle to stay intact, then fall apart into soggy mulch once tilled.  No bad smell there and the pine shavings haven't decomposed.
 
My sweet corn is coming up where I planted it in the bed on the south side of the garage along with the beans and the squashes.  Found 6 volunteer squashes in the (old garden)--horse training area.  Replanted them in the orchard. I have four watermelons up and happy, too, growing in the orchard.  Looks like there are a few pumpkins that spouted, too.
 
Happy Birthday, "Buster."!!!  (He's my NOW 4 year old, grade QH.)
 
June 7, 2010
 
DH took time this weekend to mow the South Pasture, North Pasture, Shelter (barn outside area) turnout and the training area.  Looks great!! I STILL need to play with my string trimmer, because there are weeds along the fence lines, and the horses sometimes eat them, sometimes not.  At LEAST we're mowing down the burrs this year.
 
Transplanted 15 tomato plants into the garden and repotted fifteen more into larger pots.  They'll have to wait a week until I can finish the tomato garden fencing.  Weeded about 1/4 of the okra patch in the raised bed.  The red oka are really easy to spot against the weeds that shade them--weeds DO serve a purpose, as long as they don't get too big.  I really like how easy weeds pull out of the raised beds.  No soil compression is definitely a plus.  I have to harvest my sugarsnap peas!!!!!!!!!!!!!!!!!!!!!!!!!!!!  DD helped me to build up grass clippings to cover the bottoms of the potato plants.
 
June 14, 2010
 
Spent the weekend at a CW event.  We did it differently--with the monsoon rains plus the event is only 1 hr., 10 minutes away, we drove over and back for both Saturday and Sunday.  I did some more weeding and trained my cucumbers to climb their fencing.  Took some more of the spoiled hay bale (from the rainy vacation) and have been surrounding my potatoes which are getting flower buds.  I pretty much weeded by beet bed--no time to count, but I should get a few meals out of them.  My okra and getting big.  I had to buy sweet pepper plants, because my seeds didn't come up.  I've been weeding in their bed--maybe they got choked out?!?  I'll be buying clearance pepper plants this week.  It will probably be a Murphy's law thing, they'll come up and I'll be swimming in peppers!!
 
I have two patches of sweet corn that look like 6ft x 8ft corn jungles!!  Keeping my fingers crossed on that...
 
July 1, 2010
 
Finally fixed my tomato garden fencing and got my plants in it.  (My DOGS run and wrestle and they destroy uncaged plants.) Kinda sloppy-planted them, then mulched with grass clippings.  I will need to replace 5 of them, but I already have the "reinforcements" in pots inside the fenced tomato garden, so they'll be acclimated to the weather before they are planted.
 
GETTING the tomato garden ready was a real BEAR!!!  AAARRGGGHHH!!!!! I had the chicken wire fencing up on 3 sides, including the wire that was strung up alongside of the "horse-fencing" that flanks the "orchard" on the east.  I had enough tomato cages for two rows (17 cages).  I found that about 7 volunteers were popping off in between two of the plants that went in the ground on June 14th, so I weeded around them and caged them all, too.  Because I was busy with (everything above) I let my chicken wire get fescue-bound.  I tried to pull it up.  Instead it pulled my back out!!  I tried a string trimmer, but that didn't work.  I finally had to use non-electric, grass shears to cut the grass, then pull, then cut, then pull.  It probably took me a total of 5 hours--not all on the same day, to free the fence.  Once it was free, I was able to mow the area  down, then till it one last time.  I tilled one row's width outside of the fence to grow some Allysium and other flowers there.  I also pounded in 12 stakes/poles.  I need to count, but I think I have 70+tomato plants in the ground, with about a dozen more still in pots.  I need to transplant the cherry tomatoes into some big pots.  I have Romas, Big Boys, and Cherokee Purples, and some don-descript plain old red ones.  Don't really care, as LONG as I get a lot of fruit to can.
 
I left one of my gates open after we rode yesterday, and the horses got into the orchard/in front of the barn area. FORTUNATLY, it was dark and they only ate the tops off of two of my sweet corn there.  They could have done a lot more damage than that!!  Cucumbers are only about 1/2 inch long, but there are scads of them, and lots and lots of flowers.  I've helped them climb the fence and they're starting to look picture perfect.
 
I've gotten most of the weeds out of my beds.  It looks like I'll have about 20 sweet peppers, and that will be plenty for my needs.  I bought my hot peppers, most of which will be used to make bug spray.  DH says he likes banana peppers.  I'll harvest them and see...
 


My cabbage are only so, so.  They are being shaded out by the cucumbers.  In the Orchard, I have trailing watermelon, trailing pumpkins, a couple of trailing cantaloupe and a few trailing yellow squash.  I'm still hoping that one of my squash is a zuccini.  Looks like the bugs ate one of my pumpkins, but ignored everything else.  (Someone must sacrifice.)  The millet I planted for my birds looks healthy, and I don't really have a head count on my sweet corn.  I think we'll get about 2-3 meals out of them.

August 3, 2010

I have had a table code stuck on this blog, so I had to copy to my computer, delete the page, then re-paste.  STUPID  Microsoft WORD!!!!!!!!!  TOO bad that WordPerfect wasn't able to compete, because you could ALWAYS fix document codes on that.  This is why it's taken me a whole month to add to this blog.

I am swimming in 4 ft tall okra--over 25 plants.  Found a couple of recipes I like, and we ate some with hamburgers Saturday night.  I've frozen 4 bags with about 8 cups each.  Don't know what to do with the big tough ones, since the horses and the chickens won't eat 'em.  I have a pile in the corner (by the chicken run) with grass clippings, and I've thrown them there to compost.  Harvested 6 tomatoes yesterday, three were large cherries, and three were Romas.  The weather is wearing me out, way too hot, and our living room AC is dying, so the only refuges are the bedrooms and the kitchen.  We'll replace it when they go on super-sale in about another month. 

I have 4 baby boo pumpkins and a large trailing full sized pumpkin plant, with numerous flowers and two tiny fruit.  If I have any time to do so, I'll train it around the apple tree nearby.

My two cherry trees have about a dozen yellow leaves, but I've noticed that a lot of trees everywhere have some discolored leaves and are looking a little stressed, so I'm not going to worry about them.  Certainly they don't suffer from "weed-wacker disease, because I don't use one around their bases.

The apples are about done, and I should harvest the beets, and replant them for the Fall.  I let my lettuce in the salad bed go to seed, and should be collecting seed this week.  Also, the grapes have started to turn.

August 6, 2010

Some of the grapes are super-sweet--ate while checking them out this morning.  Picked some more okra from my 5 ft tall plants--the package said that they would only grow to 3 ft. high!!  aaarrrgggh!!!  Monsters!!!

Tied up a few more tomato plants.  I mowed and tilled around the cistern cement slab (9ft by 12 ft) and...um...cut a buried electric cord.  I cannot figure out what it goes to.  ALL of our electric lines are buried, but they weren't when we moved there.  I knew that the garage power wasn't there.  Guess I'll try to figure it out this weekend, then I'll plant my Indian Corn there, along with some other 2nd crop-ings.

Gave the chickens a dead cicada and a huge, dead moth this morning, plus a couple of grapes--they were very excited at the treats.

EUREKA!!  I borrowed DD's super-nice, big lens digital camera for the weekend!!  My other DD's are shooting some video in the back yard on Sunday, and have PROMISED to take garden pictures for me. High time, since we ate all of the sweet corn growing on the south wall of the garage.

August 9, 2010

Had to make a "date" with DD to do my garden pictures.  **grumble** 

SSSOOOOO   HHHAAAAPPPPYYY  !!!!!!!   Harvested 5/14 plants yesterday, when it was super dry.  MY FIRST ATTEMPT, and I got 5-6 potatoes per plant!!!  Most of them were big, about 5 were HUGE, with a few little ones, and I found 3 that went bad in the ground...so I left them there.  I planted 15 Yukon Gold seed potatoes in the Spring, and got 14 plants.  The tops were dried out and dead looking--I waited, like everybody suggested.

NOTE:  Next year, my potatoes will grow on the inside of the old cattle fencing along the street.  I think it's over 30 feet long there--plenty of room and plenty of sun.  I should be able to make a secondary chicken wire fence towards the west to contain the mulch.

I just realized this morning that I am NOT watering my garden.  I put two 1-2 foot of compost last winter.  I think everybody thought it the manure mixed in was too fresh--me, included--and I'd burn out my crops, but that didn't happen.  We've had blazing sun and a 2 week drought with another week of excessive heat warnings, and I am NOT having to water my 5 foot high okra, my bushy tomatoes, my leafy sweet and hot peppers.  I have watered my beets, but I'm just delaying the inevitable harvest work with them.
We have grown up with the WRONG thinking about our gardens.  It's very much like what happened on the plains before the dust bowl.  EVERY thing was plowed under, and all the furrows lined up because everybody thought you grew like that.  There were no wind breaks, and the wind whipped through, following the furrows.
Even where I live, in the humid Midwest, we've had days during planting season where it was dry and we had to close our windows from the soil carried on the wind.

The only crop that didn't do well this year was my cucumbers.  They did better on the ground for me that next to a fence.   I'll just have to supplement by stocking up at farmer's markets and stocking up when grocery stores put their canned goods on sale.

August 11, 2010

Harvested my first beets last night--SSSSOOOO  SSSWWWEEEETTTTT!!!!
Last night we also had my Yukon Gold potatoes (with baked Salmon)--even cooking in the microwave they taste gosh darn glorious!!  One of my beets was the size of a softball, but just as tender as the smaller ones.  I'll be planting beet seeds in my bed for a Fall crop.  I know that I can make some opaque plastic canopies for them, if they aren't done, and we get into frost season.

August 13, 2010

Wrestled the camera away from DD this morning--many bruises, tears and sweat--so I'll post a few today, more later, below:

OKRA
BEET BED
2010 Lettuce Garden, gone to seed (on purpose)
Here is one of my pet rocks, which grew next to my Lavender Rose of Sharon bush.
More pet Rocks and Gladiolas, by the street...
TOMATOES
2010 Tomato Garden, August 13th
These are the 3 rows that I have in cages.  (LISTEN!!  Can you hear them roar?)
Scarlet Runner Beans
I didn't harvest them soon enough.  Guess I'll have to save their seeds for 2011!
Pyg and Rose, heads stuck together on Guard duty.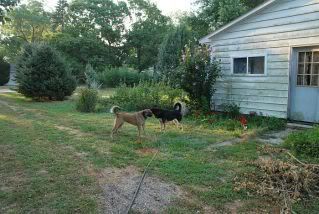 Out of computer time!  More next week... c ya
August 16, 2010
I changed my Avatar, but if you want a clearer picture of it, look below~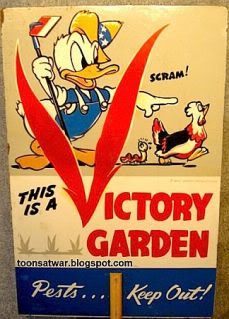 Nothin much new--burned a bunch of paper in my pile this morning.  Okra needs pruning.
Read this:
How to Harvest Okra | eHow.com
http://www.ehow.com/how_2156654_harvest-okra.html#ixzz0uFrGP8EU
Heat wave FINALLY broke.  It felt as cool outside as our hard working AC's made it feel inside.
August 22, 2010
Finished chopping down the saplings by the street and started to raise the crowns on the row of six pine trees to the south.  My neighbor has a wooden privacy fence there, and coupled with their 30 feet of growth, the grass is failing and the weeds are multiplying.  It was much easier to trim the pines than cut the suplings which have been growing back for several years now.  I even cut out a piece of the old cattle fencing along the street, so I could get my electric saw in to cut--this job has taken about 3 hours to finish, though it wasn't really a forest, just 3-4 foot tall saplings.  Heavy dew this morning.  Illinois Gardener had a caller last thursday who said that he'd heard that we've had an abundance of heating-degree-days.  Therefore, the Ag experts are predicting an early harvest from the accelerated growth.  He wondered if the conditions are affecting our gardens,too.  They replied yes, they thought so, and I tend to agree.
August 24, 2010
Raised the crown on two more pines, this morning--DH noticed and liked it!  The grass isn't getting light there, between the 30 ft. pines, and my old fence AND my neighbors privacy fence (for their grandkids "playpen").  They are our best neighbors.  I am sawing off limbs up to my chest.  This fall I'll till some and put some shade-type seeds there.  Boy, the pile to take out to burn is really getting big!  =D
August 26, 2010
UNEXPECTED  YARDWORK!!!
I wake up this morning and DD tells me to look out of the kitchen window.  One of my STUPID ash trees, 20 foot from the house, decided to lose a 500+pound limb!!  FORTUNATELY, it fell west, so there was no property damage.  My "duck truck" tried it's best to pull it out, but it just managed to move it off of the driveway, since the upper branches are stuck on the trunk of it's tree.  I brought my chainsaw in for chain repair/sharpening.  I'm going to need to chop it into smaller pieces.
<--
                        And here, perspective-->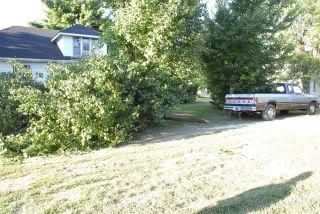 August 27, 2010
Finally, got some tomato pictures.  These were harvested, on the table and  G O N E!!
Better Boys--gonna save THESE seeds!!
More Grape photos.
...and, a Surprise...
August 30, 2010
DD got his full ton, doolie, 4 (how about 6)-wheel drive truck out to get the tree limb moved on Saturday.  (It's also a Cummins diesel.)  We put the tow chains on, took it west to free it from the trunk, then moved the truck and dragged it.  We drove the whole limb (which I now think weighed >1,000 pounds) east to the street, north to my gate at my north pasture, then stopped, made the turn with the truck through my 16 foot gate, re-hooked and dragged it to my burn pile.  The darn thing was as wide as the city street!!  We only broke off a few pieces, which I can handle with my wheelbarrow.
Harvested about 20 non-Romas (that's what they are called at my house) tomatoes for feasting.  There are plenty of cherries ripening and one of my seed-started heirlooms has a bunch of big, green, multi-hued and wrinkly fruit just about to ripen.  I used jute between my metal fenceposts for tying up this year.  One broke, so it's not really strong enough for the job.  I think I need to look at inexpensive plastic cording next year.  =(
I also found some more scarlet runner beans trying to dry out on the vine, so I took them inside to dry out for seed saving.  Tomorrow I'll be home prepping for the garage sale this Saturday, so I'll have to check my 4 watermelons to see if they're ready to harvest.  A few more days of harvesting peaches, apples and millet, then it's time to let the horses clean up the "inner sanctum", in front of the barn.