Joined

Mar 20, 2009
Messages

8,221
Reaction score

9,986
Points

397
Location
@heirloomgal
I'll stick this here, seems like
@flowerbug
is suddenly against hijacking!

(That chair emoji means that is a joke.)
There are many different recipes to can tomato products. Tomatoes, juice, sauces, puree, salsa, and who knows what else. You need to find a recipe for what product you are canning. The Ball Blue Book is the bible for canning. Do an online search for "Ball tomato recipes" or something more specific.
The pH of the product determines how you can it, pressure canning or water bath method. If the pH is low enough you can water bath but a high pH means you need to pressure can it. There are two elements to pH. Some tomatoes are low acid, some high. That has nothing to do with color. Which varieties of tomatoes are you using? The other element is that with many products like sauce or salsa you add things other than tomatoes. These additions may not necessarily be low acid, they can raise the pH. The traditional way to lower the pH of a product is to add more acid. Lemon juice is the most common. To me that does not affect the flavor at all, but I'm not a delicate little flower with supersensitive taste buds.

(That's another joke)
Part of the recipe is how long to process it. For the water bath method that's a length of time based on your height above sea level and whether it is a pint or quart jar. All you are trying to do is seal the jars. For a pressure canning method the time you need to process it is based on the density of the product. You are raising the core temperature of the product to 240 degrees F to kill the organism that can cause botulism. The denser the product the longer that takes. I'm not going to mention specific times (can't remember for sure) but it takes cream style corn about a half hour longer than whole kernel corn. So read the recipe. The low acidity with pressure canning prevents botulism from growing.
Now your specific questions
Were the jars only washed in the sink, or do you have to sterilize them first in boiling water? Do you need to sterilize the spoon for pushing out the bubbles?
The acidity with water bath canning and the 240 F with pressure canning is only about botulism. Heating it up will kill some other microbes but some, like mold, can survive. The reason botulism is the focus is that botulism is clear and odorless, you can't tell that it is there. You can see mold if it is growing.
Sterilize means to heat it up so hot that you kill everything. That would require temperatures hotter than boiling water. We are not going to do that. What you have to rely on is cleanliness. Wash everything in hot soapy water. I run my canning jars through the dishwasher. When I can anything I spend a lot of time washing things, either cleaning up messes I make or getting things clean for the canning process.
I don't use a spoon to release the air bubbles. For quarts and some not so chunky things I use a plastic chopstick. For chunky things like green beans in pints I use a plastic knife I got at a fast food place.
Were the chopped tomatoes cooked for long before being put in the jars?
Depends on the recipe.
What is 'finger tight'?
Hard to describe, some of this comes from experience. In the canning process some liquid escapes from inside the jar, often in the form of steam, so that when it cools off a vacuum is formed inside the jar so that rubber seal will seal. So you want the lid to be loose enough that the liquid or steam can escape but not loose enough that the contents empty out or water comes in when it cools. If you crank it down too tightly the steam or liquid can't escape so the lid gets kinked or distorted from the pressure. It won't seal properly. So you tighten it with your fingertips, not cranking down with your palm. Your finger tight might be a little different from mine but it isn't an exact science.
Part of this is the air gap. The recipe will tell you if you need to have a 1/4", 1/2", or 1" air gap. Follow the recipe.
I'm lost after this point. What did you do with the jars and that pot of boiling water, put them in to sit on the bottom?
The canner comes with a rack' I'll include a photo of mine. This sets in the bottom of the canner with the jars sitting on top of it. When I pressure can pints I often stack them with this rack in between. If the jars were sitting on the flat bottom of the canner they'd probably break. This rack allows water or steam to go all around the jars.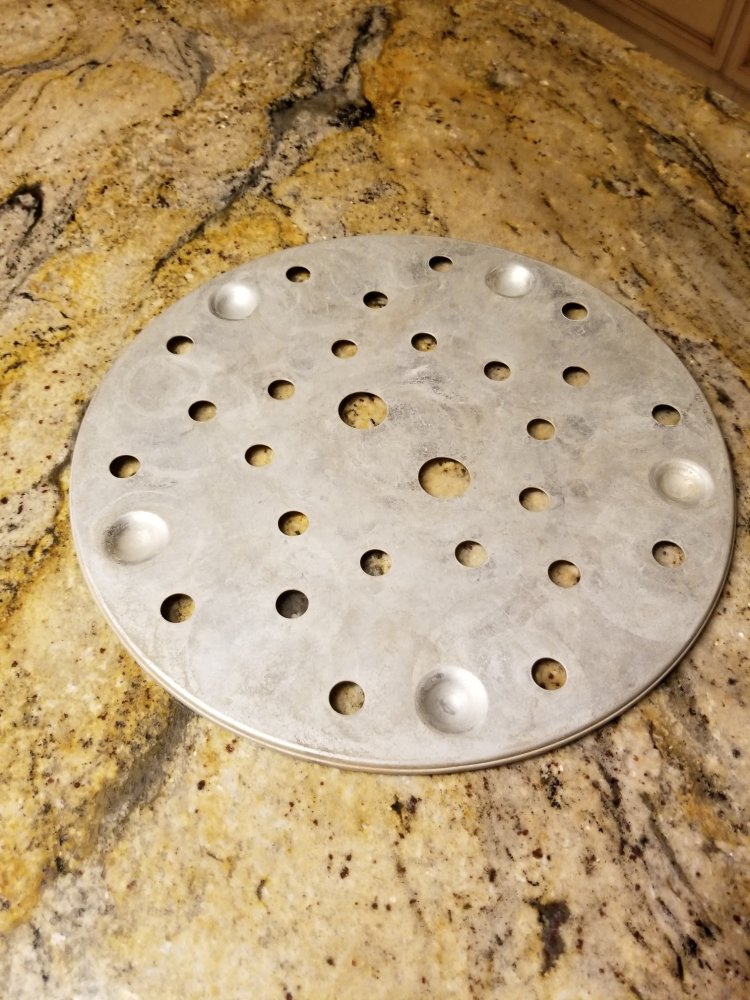 When you mention the stovetop being hot so not likely to crack (the jars I think), do you mean the jars are hot sitting on the hot stovetop? (you and I have the same type of glass top stove)
I'm not sure what they are talking about. It could be different things. You want the jars to be somewhat warm so when you set them in the hot water or the hot canner they don't break. I'm sure you are familiar with the concept of cold glass shattering if you put it in hot water. So you are trying to avoid that.
That flat glass stovetop can cause issues too. The canner can be heavy, is the glass stovetop strong enough to support it? Another possible problem is that the bottom of the canner sitting on that flat eye might trap heat down there, get it hot enough to burn out the wiring in the eye. With a glass stovetop you need to contact the manufacturer and see what they say abut canning on it. They may say no way, it may be fine, or they may have a rack they want you to use. In today's world if you call you may get somebody that doesn't have a clue what you are asking about. If you get that feeling you might want to talk to someone else or send an e-mail.
I understand the first time or two can be scary. Once you get used to the process a lot of that uneasiness should go away. It's just following a recipe. You can do that.