Joined

Apr 19, 2009
Messages

386
Reaction score

0
Points

98
Location
My old wheelbarrow gave up the ghost, recently, and I was feeling a little out of sorts. Lifting and toting stuff like bags of manure and piles of trimmings around the yard wasn't getting it!
But, I'm the worlds greatest cheapskate - I can't see spending the kind of dough they want for even a light duty model, these days. So what to do?
Why, turn on the
Recycle Radar
, of course!
With the Radar on full blast, it wasn't too long before I spotted a discarded nursery cart lying in a ditch near home. It had been abandonded because the wheels had rotted out, rendering it useless to it's previous owner. However, the tub, the handle and all the other fixtures were in perfectly good shape... and it was one of those nice, rugged types. So, while the original owner considered it useless, to me it was a blank canvas for my recycling art.
Hey, you gotta take joy in the little things, folks!
Into the truck it went,and I was off!
Now, a nursery cart without wheels is pretty useless so I had a dilemma at hand - good nursery cart, no wheels. I had to do something about that.
I considered making some wooden wheels, but didnt really want those. People had been using such rollers for milennia, I know, but I'm a high tech sort of guy. Wooden wheels were out - or at least were going to be my bail-out plan.
Hmmm, metal cart wheels were doable...well, at least I knew what
needed
to be done to make them. But, I am really not equipped here at Tiznotta Farm to make wheels out of metal. So I did what anyone would do - I hit the internet, seeking options.
After a bit of searching, I found some superb 20" spoked wheels, with ball bearings, for $15 each. They even had solid rubber tires, unlike most of the others I'd seen which had inflatable tubes and tires. I think one of the worst thing that can happen in the garden is to get a flat on your garden cart. But, with solid wheels, that won't be an issue. And at $15 each, they were a heck of a lot cheaper than ALL the pnuematic ones I'd seen, costing anywhere from 1.5 - 4 times as much.
So the decision was an easy one to buy these wheels. I got them, shipped, for a total of $43 from
www.overstockwheels.com
. Now I was in business!
The wheels are actually a lot nicer than I imagined them to be. Solidly built and finished in a businesslike black, these were going to do nicely. They are rated for 150 lbs. each, giving the cart a 300 lb. capacity. That is a lot of manure, folks, I can assure you.
I did have to make an adapter out of some conduit, to mate the 5/8" ID bearings to the 1/2" axle, but that was the only physical change I had to make. It was as simple as cutting the tubing to the hub length with my handy-dandy tubing cutter. I have now learned that I can replace the bearings from overstockwheels.com with 1/2" bore units, and avoid the adapters altogether.
Since this was going to be a new-to-me item, I figured it needed a little spiffing up, too. After all, my neighbors might see this thing, and I wanted to make a good impression, you know? This was as simple as hosing down all the metal parts with some yellow paint ($2) to gussy things up real nice. It ended up looking like a John Deere wanna-be, and I think that is okay, too! What no one knows, won't hurt them.
And there you have it - a useful, tough nursery cart for $45! These carts are $150 or more when new, so I reckon I got a pretty good deal.
Here's pics of the finished cart: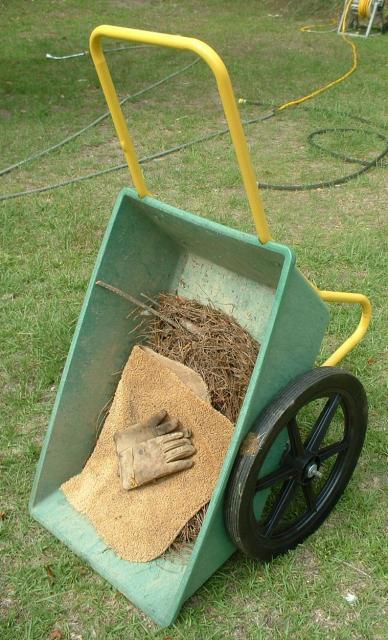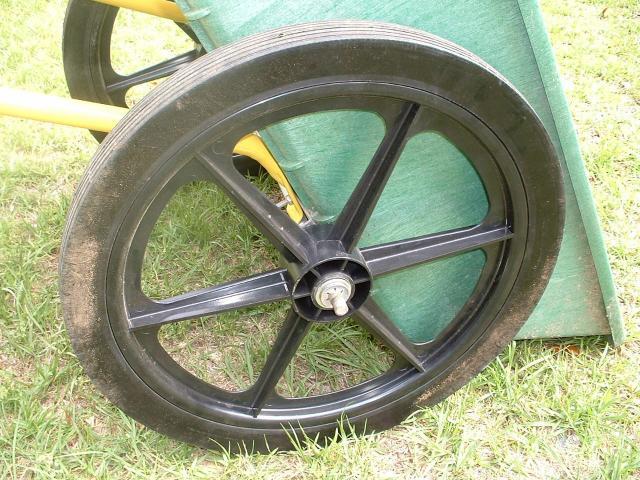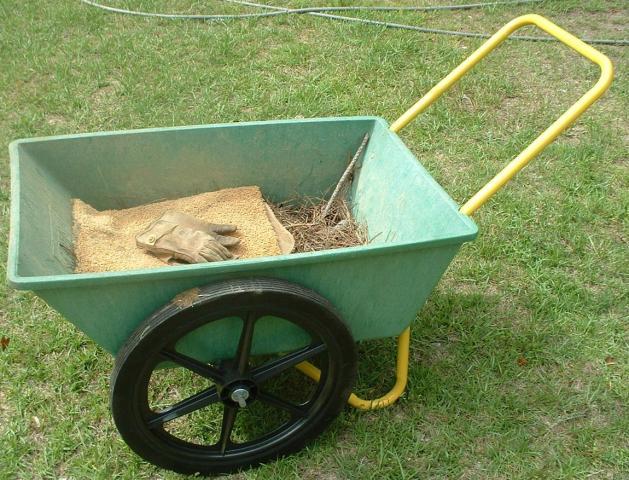 ==========================================
I heartily recommend
www.overstockwheels.com
for all your wheel needs. They have wheels for lawnmowers, barrows, carts, as well as parts like bearings and tires - they have it all pretty well covered. Check 'em out.