Joined

Sep 4, 2009
Messages

10,511
Reaction score

12,247
Points

417
Didn't know where to start for this year. I'd LIKE to talk about the 15 sweet pepper plants downstairs and growing---2 have flowers--that NEVER SHOULD HAVE SURVIVED 1/2 of last year, but I will be sad if muck it up and kill them. Not to be a downer, But, I have sweat equity work to do on 6 out of 7 plants currently growing in my basement.
The Surprise success is the seemingly ever hardy citronella plant I bought on a whim. It seems to love life, but what will happen to it in the future is a mystery. I don't know if it wants to become a bush, if I can start pruning it back, if I will need to divide it next year to keep it manageable. Didn't pay a lot for it, but it's fun when they LIVE!!

TT to middle DD, who had hosted New Year's Eve for her sisters and friends. They have 3 inches of snow. WE have 3 inches of rain. BAH!!!!
I went internet shopping for a tabletop seed starter, bc that's what she needs. Something that won't take up a lot of real estate, and none of her house windows really works for lighting.
THIS is what I found: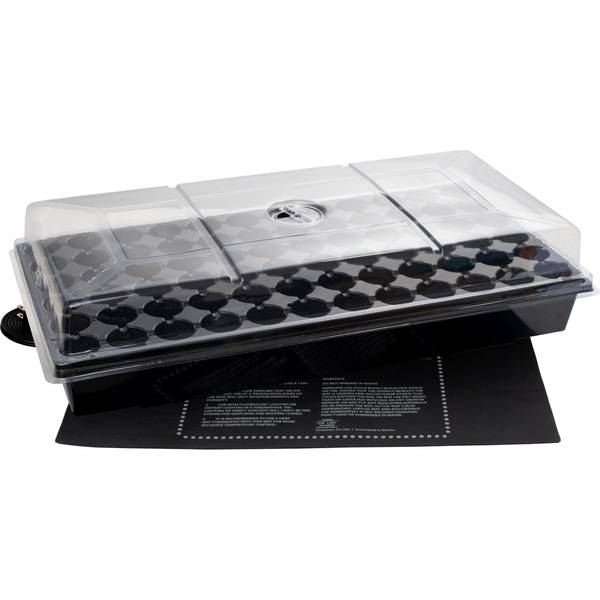 Get your Hydrofarm Jump Start Germination Station - CK64050 at Blain's Farm & Fleet. Buy online, choose delivery or in-store pickup. Great prices on Seed Starting.
At ~$33.00 I am thinking it's a good deal. Just Thursday I saw that grow mats are still $24.00/each. I have to go into town on Monday and I plan to buy one more before the prices start jumping.
This package doesn't have a gro light, and nobody has the one I like, so I will probably buy/ship it to middle DD, and she can PayPal reimburse me.
Seeds don't want anything but water and heat for the first week, anyway.
I FULLY expect seeds and supplies to disappear, so if you haven't bought, do so ASAP.
DId myself a favor, watersealing the top surfaces of my wooden picnic table and bought it a new tarp, so it will be out of a lot of the weather this winter. I provided a block for my faucet with the blue heated hose attached. The winds will freeze it fast, and I hope this helps. You can also see that the spent okra is still out there.
If I Don't dig them out, they are "winter interest"!