Joined

Dec 13, 2007
Messages

24,530
Reaction score

24,255
Points

457
Location
I rather seriously messed up with my exploration of summertime greens. The poor germination of chard hasn't quite been my fault, unless you count not considering
@catjac1975
's idea of soaking the seeds. In May?
Yeah, I sowed other seed for summer greens about the first of May and didn't think about emptying the packet. Amaranth looked like a good possibility but I have tried 3 different varieties over the last 3 years. Red Leaf from Kitazawa: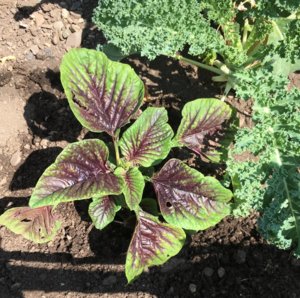 It's behaving itself the way I'd hoped. Sowing for summer should have been about the first of July but all the seeds were gone 2 months prior.
Oh, those veggies grew and were fine - good flavor and somewhat larger than the other 2 grown previously. Those were so small that they were salad ingredients, and not much more. This variety may grow larger at some point and that is what I am hoping. It isn't bolting to seed, at least.
The relatively small Scotch kale (and other kales) fit into this summer greens scheme. Yes, I have grown kale waist-high but realized that summer is the season when I want to harvest from the garden. So, the leaves are cut at regular intervals and it doesn't have the opportunity to grow unmolested for 6 months so that I can dig huge plants out of the winter snow.
A green that stays with me until about now is Choy Sum. I bought the seed many years ago from an Asian store and a seed company no longer in business. Got lucky there but have to save seed. Once again, varieties of choy sum are available but they are tiny plants. Not "micro-greens" although they would be suitable. Still, these others take
many
to provide a serving and their season is brief. The variety I have grown is larger, stays longer and is plenty tender and tasty. Johnny's has a new choy sum variety that
may
be similar.
I'll see how this Red Leaf Amaranth does since it seems to have made a commitment to survive summer.
Steve