Joined

Dec 10, 2016
Messages

3,651
Reaction score

10,901
Points

297
Location
I'm assuming that I'm probably the last to start peppers indoors.
These were the peppers I started for 2023; the variety name is followed by the seed year, germ. days, and germination ratio:
Aji Cristal (
C. baccatum
) - hot, good hot salsa (2017) 8-11 days, 24/30
Alma Paprika - sweet, cream immature (2016) 9-11 days, 23/30
* Bacskia - conical sweet, cream immature (2021) 7 days, 14/15
* Beaver Dam - hot, my 'go to' canned salsa pepper (2021) 7 days, 100%
Djuric - sweet, cheese-shaped, cream immature, for sweet salsa (2017) 9-12 days, 11/30
Early Jalapeno - hot (2017) 8 days, 28/30
* Greygo - sweet, very large cheese-shaped pimento, AWESOME fresh when ripe (2021) 9 days, ~100%
Pelso - low heat, for paprika powder (2016) 10-11 days, 28/30
* Pizza - hot, like mild(er) over-sized jalapeno, for poppers, pizza, or fresh eating (2021) 9 days, ~100%
Red Chile - hot, serrano-type, for chili powder (2018) 6 days, 26/30
* Taltos - sweet, thick-walled, conical bell-like, cream immature (2020) 7 days, 100%
Tennessee Cheese - smoky sweet, thick & meaty, good sweet salsa (2017) 9-12 days, 18/30
Thai Giant - hot, good dry chili powder (2018) 7 days, 29/30
Thunder Mountain Cacho - hot, brown cayenne-type (new) 10/10
Due to the seed age of most of these - and because I can't afford to get failures - I planted 5 seeds per cell for all but Thunder Mountain. I am pleasantly surprised to get at least fair germination from even 2016 seed. Once again, hot peppers tended to both germinate faster & have better germination rates than sweet peppers of the same age... which has been a trend from year to year.
All but those marked (*) are intended for seed crops. Bacskia & Taltos are East European peppers, which I will be giving to an immigrant from that region at a seed swap on 4/29. Beaver Dam, Greygo, and Pizza are grown every year, to share both plants & peppers. It remains to be seen though whether I will be able to fit all of the seed crops into my smaller garden, since I found that in peppers require some isolation space even if grown under cover.
Don't remember if I ever posted my light setup, but this is part of the plant nursery: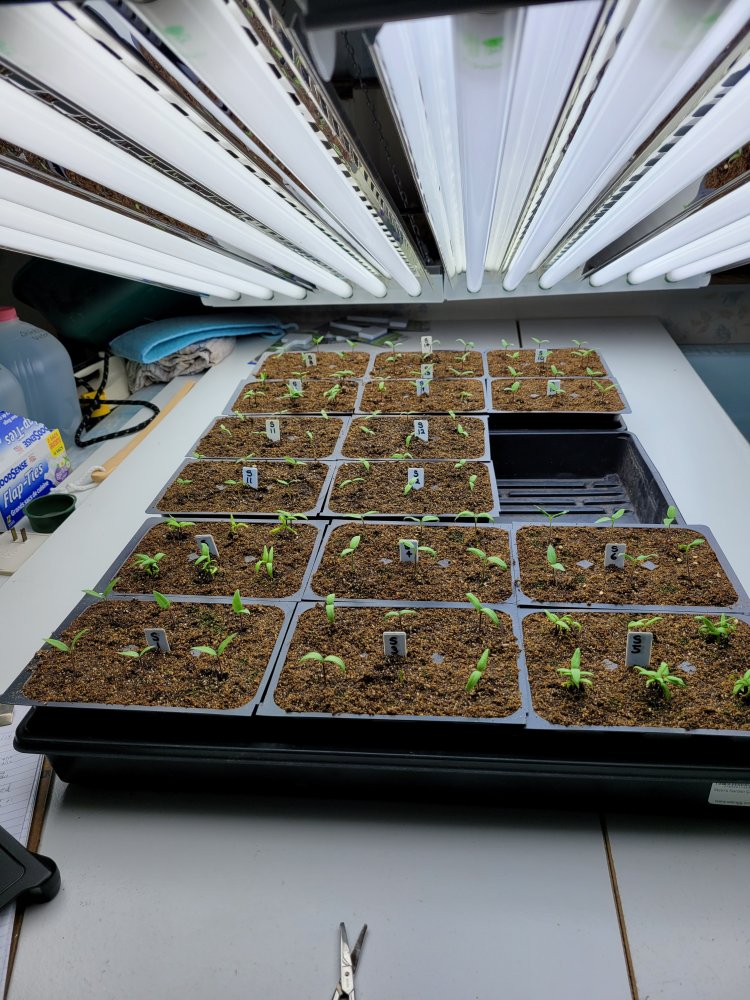 Last edited: