Joined

Dec 13, 2007
Messages

25,045
Reaction score

25,919
Points

457
Location
This is the Fruits & Vegetables forum so I am talking about something for the table ... not the
chair at the table
.
As many gardeners, I have dill and cilantro volunteers. I'm happy about that and we DO use them, or, some of them since they can be very prolific (and even sow cilantro seed each year so as to extend the season).
It used to be that Orach was of real importance in the early garden.
Bbuuuttt
, even with Help, haven't found the variety that once volunteered each Spring from a mother plant, left in an out-of-the-way spot the year before. The property owner moved & sold that place after he had inherited it from his father, my gardening buddy. Since I didn't
sneak
over and steal a volunteer plant for seed, I was left trying to decide what it was! Some orach varieties are now bred for the ornamental garden. (Native Seed Search has a couple of varieties that I know nothing about and should be worth a try in '24 -
LINK.
)
Orach would be past its harvest season by now, even if it was slowed a little in the Spring with me moving volunteers around. This is a cousin in the family, runs to a somewhat longer harvest season and my vegetable volunteer for the table the last few years.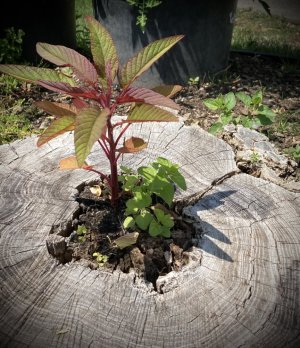 Amaranth is a very common plant for the flower garden. Unlike another cousin, Spinach, it isn't commonly eaten. Seeds for these amaranths which may volunteer most anywhere
, were given to us by a friend, who received them from another friend. Where they came from originally is a mystery to me. They are, indeed, quite ornamental (often darker in color than this one). Purple like another of my favorite vegetables - beet greens, another cousin - after they are cooked and arrive on the plate.
Steve
growing here beside some Thai Hot peppers