Joined

Mar 11, 2015
Messages

220
Reaction score

379
Points

167
Now that we are ready to start growing veggies here, on Devonviolet Acres, I thought I would start a journal to track our journey. Today, I thought I would give a "brief" [

] history of how we got here.

We moved to beautiful East Texas a year ago last January, after a six month search for a piece of land, on which to raise animals & veggies, so we can live sustainably in our retirement years.
We moved to Texas in 2014, from York PA, following our DD & her family (after they moved here in 2011). But, I'm getting a bit ahead of myself. In 2003, we moved to PA, from Rochester, MN, (where I worked as a nurse, for the Mayo Clinic), to be closer to DD in PA & DS (& his family, in Baltimore, MD). He was an Army nurse, stationed at Walter Reed Army Hospital, in Washington, DC.
In 2007, DS & his family moved to NC, to be closer to his DWs family, after he left service.
When my kids were small, we had lived in Lake Worth, TX (NW Ft Worth), and moved to PA for my ex-husband's job. DD missed TX, so in 2011, she talked her DH into getting a job in Dallas.
So, when DD left PA, to move to TX, that left my dear sweet hubby & I there, with no family. What could we do, but follow DD to Texas? That didn't happen right away though. Health issues kept us longer than we wanted. But by spring of 2014 We prayed & believed God gave us the go ahead to move to Texas. Before we could even list our condo, we had a buyer! And by mid June we were on our way to Texas!


Long story short, we leased a tiny (600 sq ft) apt near our DD in Dallas & started looking for land with a house on it. Around the end of Oct. We found a beautiful 5 acre wooded lot, with a 2-1/2 year old, (1200 sq ft) bungalow & a couple out buildings, that was within our meager budget.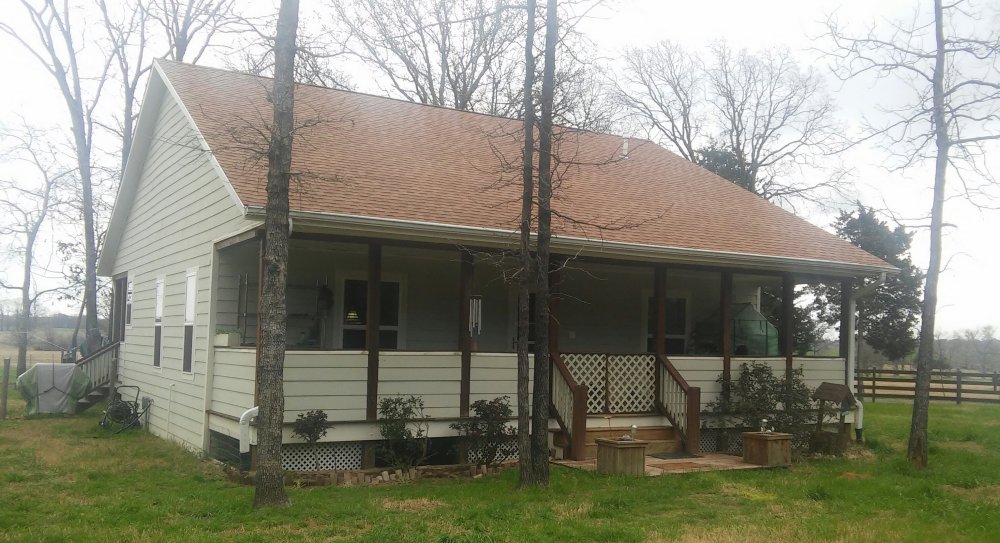 The apartment complex wouldn't let us out of our lease early.



and the mortgage company dragged their feet with closing, so we didn't move in until the first week of January, 2015.
I would have loved to get a vegetable garden in right away, but we had other pressing issues, like: doubling the size of the chicken yard, with 4' woven wire fencing, building a chicken coop & run. Raising chicks from the feed store, learning to take care of 4 Nigerian Dwarf, wethered goats & 2 Maremma LGD puppies, that are now 17 months old.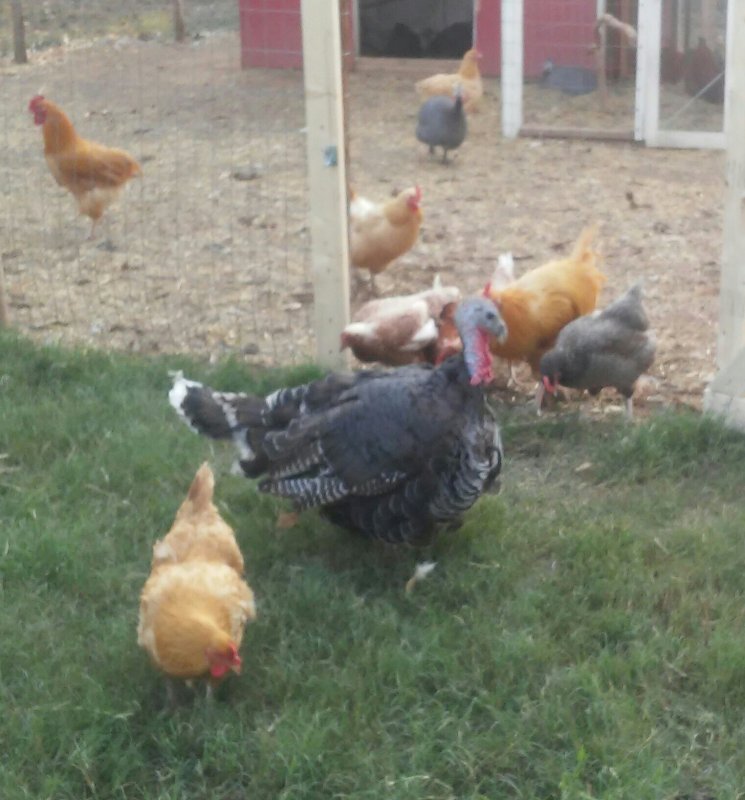 Here are our chickens & turkey hen [she came with the property, and yes, she laid about 50 eggs last year] going out to free range. They LOVE to free range.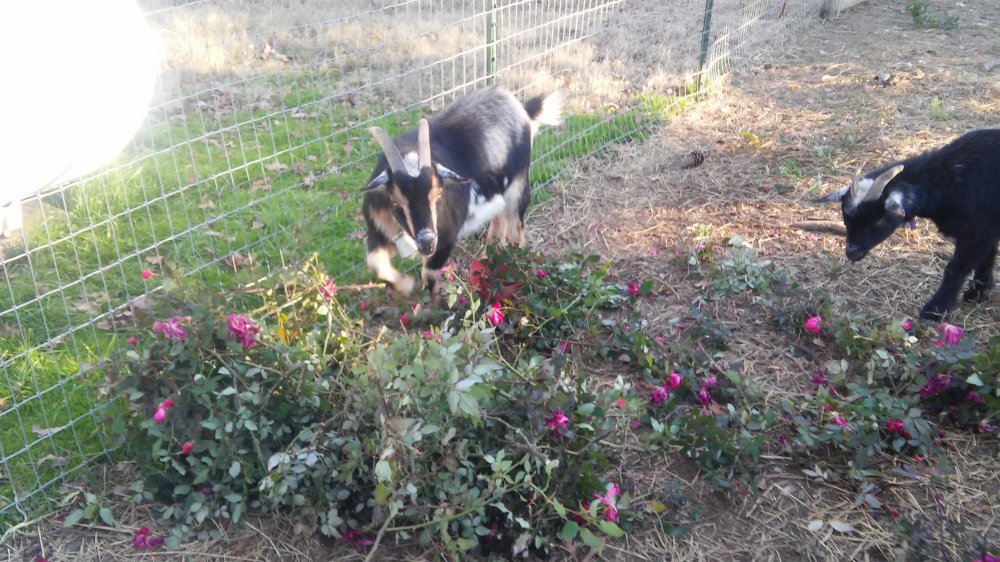 Here are 2 of our goats browsing on my Floribunda rose trimmings. It was like candy for them.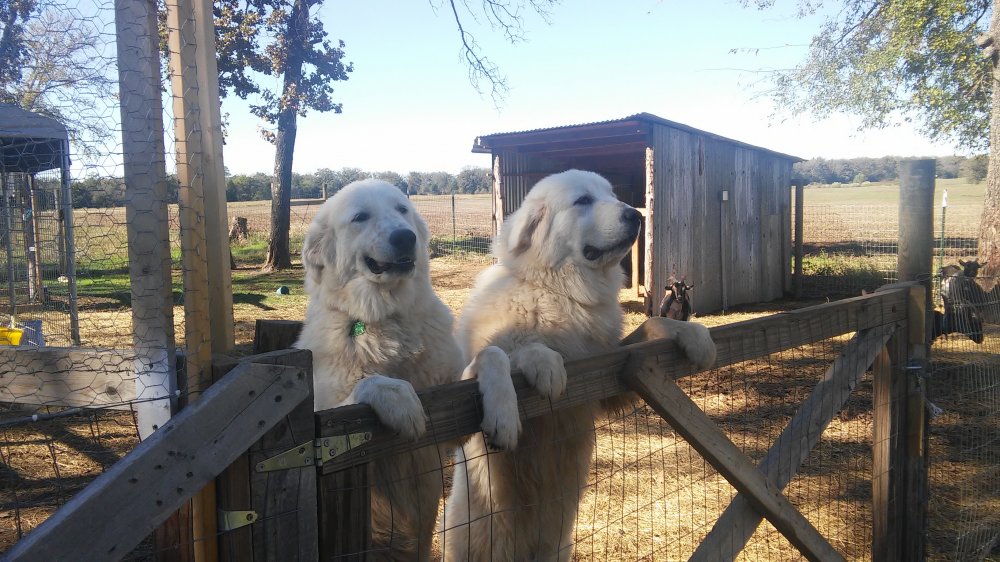 Here are our 2 lovable 100 pound LGDs, Violet (on the left) & Deo (on the right). They do an awesome job guarding our chickens & goats. We haven't lost one chicken, to hawks, owls, racoons or coyote since we moved here & got the dogs.

We are still trying to find someone to help us put in a perimeter fence, for about half of the 5 acres, so our goats can start clearing the land, and have started to remodel the poorly designed, tiny kitchen. But, this year, I am determined to get vegetable and herb gardens started. More trees need to come down and fencing streched. But,
by crackie, We WILL have a garden this year!!!

Last edited: