Garden Addicted
Moderator
Joined

Jul 9, 2012
Messages

217
Reaction score

591
Points

206
The sight of some of your growing tomatoes splitting and cracking after heavy rainfall can be frustrating. No matter what stage of the tomato's development they are in, this can happen.
The purpose of this article is to discuss the reasons that tomatoes split on the vine during the growing season, the environmental factors that cause it, and how it can be prevented.
What Causes Tomatoes to Split and Crack?​
Tomato skin cracks and splits when the soil's moisture level changes rapidly after heavy rain follows a period of dry weather. Due to this, the tomato's skin splits and cracks as it expands faster than it can grow.
The tomato can split on the vine at any stage of its growth, but as the color develops, it becomes more likely to split.
The resistance of some varieties is higher than that of others. One way to reduce splitting is to pick tomatoes at the breaker stage.
There are two ways tomatoes split. On the side of the tomato, you will see vertical splits or circular cracks that start near the stem.
Heavy rains may result in concentric cracking of heirloom tomato varieties, but it's a small cost to pay for great taste.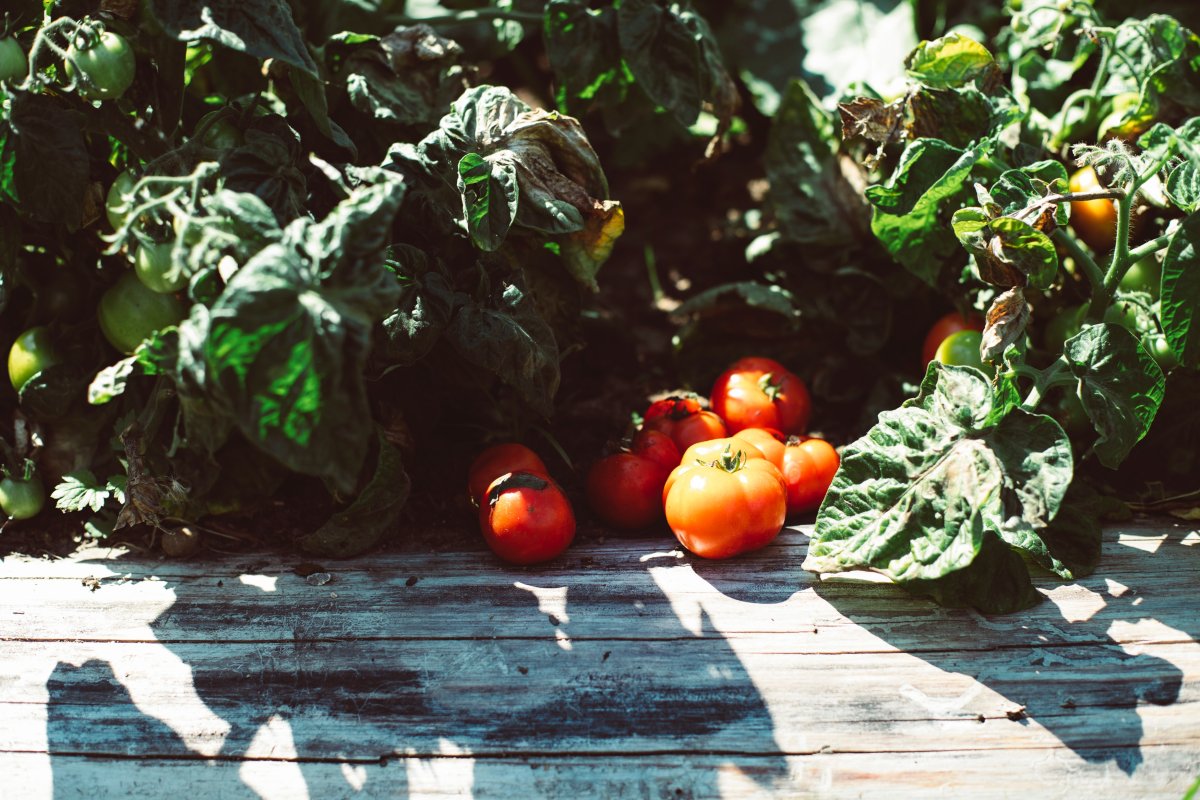 What is the problem with a split tomato?​
The split or cracked skin of a tomato makes it more susceptible to bacteria, fungi, and insects, which cause the fruit to rot or get eaten by pests.
It is more likely for a ripe tomato to split than a green one, and depending on the circumstances, it may not need to be thrown out.
The 6 best ways to keep tomatoes from cracking and splitting​
1. Make sure your tomatoes receive regular watering​
It is recommended that tomatoes receive one to two inches of water every week. During the summer, water your tomato plants every two days to ensure that they receive sufficient moisture.
The best way to water a tomato plant is to do it at the base so that soil does not splash onto the leaves, possibly spreading soil-borne diseases like Anthracnose, which leads to tomato rot.
In order to prevent blight issues, avoid watering the leaves & foliage at the top of the plant.
Watering your tomatoes regularly will keep the soil moisture even, preventing abrupt temperature changes when it rains.
To make the process easier, you can install a drip irrigation system.
2. It is important to provide tomatoes with proper drainage​
You can reduce the risk of soil disease by making soil mounds or raised beds for your tomatoes. The soil should be loose and not easily compacted.
To ensure that excess water drains away from potted tomatoes, make sure the pots have drainage holes at the bottom.
3. Make sure your tomatoes are mulched​
By spreading organic mulch around your tomato plants, you'll keep the soil moist when it rains.
There are many types of materials that can be used as mulch for tomatoes, including grass clippings, hay, straw, leaves, or compost. The ideal layer should be between 2 and 3 inches thick.
4. The best tomatoes to grow are those that are resistant​
If you are buying seeds or small plants, check the label to see if it states "crack-free".
A few varieties that are resistant to cracking are Rutgers, Marglobe, First lady, Sungold, Big boy, Big Beef, Red sun, and Burgess crackproof.
5. Make sure you pick your tomatoes before it rains heavily​
The flavor of your ripening tomatoes can be saved if you pick them before a rapid moisture change occurs.
As soon as the tomatoes reach breaker's stage, they start turning pink and can be picked. The ripening process will continue after picking breakers and fully mature green tomatoes.
It also allows the plant to concentrate its energy on producing other tomatoes by picking tomatoes at this stage.
6. Make sure your soil has enough calcium​
Your tomato will be able to better regulate how much water it takes up when your soil contains the right amount of calcium. The beginning of the planting season is the best time to add calcium.
Your tomatoes will also benefit from calcium if you want to prevent blossom-end rot.
As eggshells contain calcium, you can add them to your soil or compost, along with dolomite lime (calcium carbonate), hardwood ashes, Gypsum (calcium sulfate), and other calcium-rich fertilizers.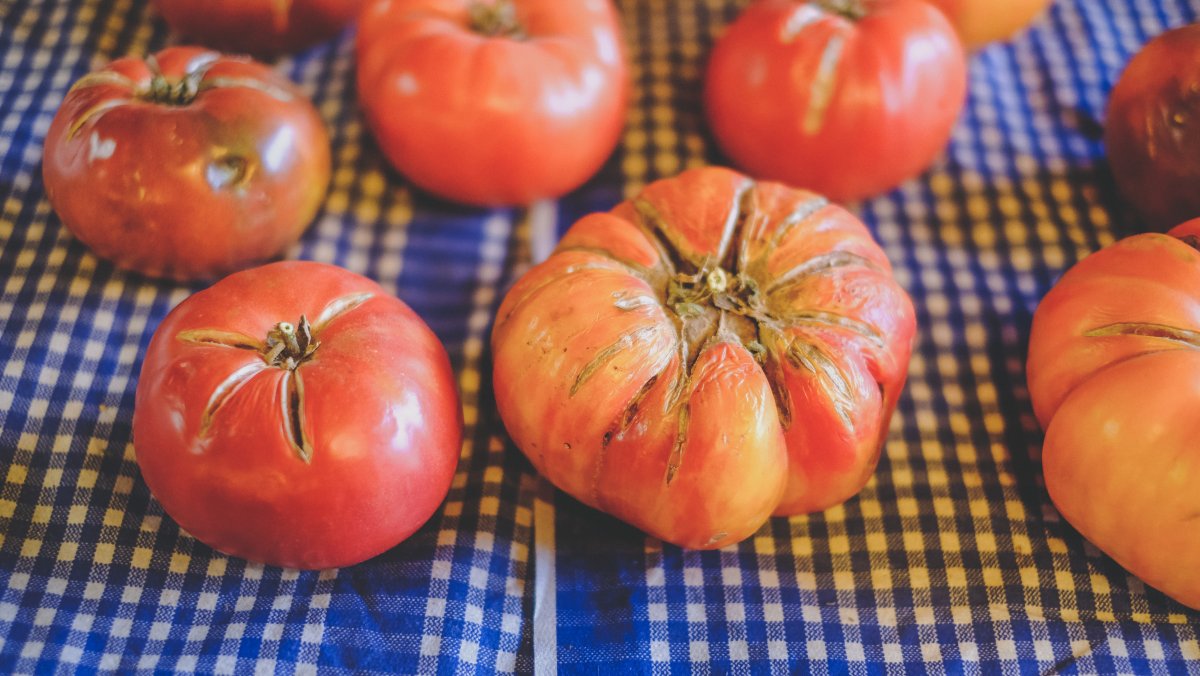 What To Do if your Tomatoes split?​
Harvest your split tomatoes as soon as possible. Rot, insects, and other pests are more likely to attack exposed fruit.
As split tomatoes are exposed, they don't last as long, so serve them as sauces, salsas, and salads by cutting around the cracks.
Is it safe to eat split tomatoes? Can cracked tomatoes be eaten?​
If you catch cracked or split tomatoes quickly, they're safe to eat. Cracked tomatoes with a sweet smell are safe to eat, but ones with a sour smell should be composted.
You can always use the rest of the tomato for salads and sandwiches after cutting off the cracked part.
If you follow these tips, you may be able to reduce or prevent tomatoes from splitting permanently. In your garden, have you ever encountered cracked tomatoes? Please share your experiences in the comments.
Last edited: