Joined

Jan 12, 2013
Messages

1,948
Reaction score

3,468
Points

263
Location
Hello gardeners and bean lovers !
A warm welcome back to our previous seasons growers! Here we are 2016. Our 4th season of the Little Easy Bean Network. It's very simple how this bean network works. I'll post photos below of beans that need to be grown out to create some renewed seed as bean seed doesn't live forever. Most bean seed will still grow after about 5 years. Depending on the variety that could be the extent of their life.
Choose the beans you would like to grow. Allow all your plants to grow and produce dry pods and mature seed. Harvest dry pods to keep them and seeds within from being ruined by rainy weather. After the pods and seeds have completely dried undercover, and are dry enough to store in enclosed containers return 60 refreshed seeds of good quality to me. In past years I have asked for 25. This bean network has been a learning experience for me just as much as it has been for some of our growers. The reason for 60 seed return is that when I have 25 seeds and I deal out perhaps 12 to someone the next season and at the end of that season they tell me the weather completely destroyed their grow out or some animals ate all their plants. Then we are down to scraping for seeds of that variety again. One more mishap with the remaining seeds and that variety is gone. 60 seeds will allow for 5 attempts at success.
For every two varieties you choose to grow. I will allow you to pick from my website bean pages A through Z. One free bean of your choice. You do not have to return fresh seed of those free beans.
There is also another group of beans you can choose from on my website by going to
http://www.abeancollectorswindow.com/network.html
The beans pictured below are what need to be grown and renewed the most. They have no names as they are outcrosses. The potential beginnings of a new variety. Below their photo is a number designation. The way I have kept tract of them for now. Choose the ones you would like to grow. It could be only one or several if you think you can handle more than one. Here's part of the fun. You get to pick a name for them. Yep ! Dream up what you think would be a neat name for them. Names are better than all those numbers and over time less confusing too.
Also below those bean photos are what is believed to be their growth habit, and the year the seed was harvested. I have done a germination test on all the samples I had and found three that wouldn't grow. I have eliminated the non growers. The rest of these beans germinated to some extent. Some to a higher percentage some lower. I would suggest just before you plan to plant them when the weather is warm enough to grow gardens in general, pre sprout them between moistened paper towels folded and placed in a quart size ziploc plastic bag with the open end left unfastened. Keep the ziploc bags with seed in them in a warm place about 70 degrees. Check the seed after about 4 days and at the soonest sign of a root protruding from the seed plant the ones that have germinated. I suggest doing this because the seed is old and not all will grow. This way you don't have to waste space in your planting area by placing seed that won't grow. This way you will have a fully filled out stand of beans. The renewed seed that these plants produce will have nearly 100% germinate again and will last at least another half decade.
Sample #'s 47, 48, 49, and 50 were not germination tested because there were such extremely small numbers of seed. Take a chance on them if you want.
Please keep tract of where you plant each variety.
Keep plantings seperated so you know where each planting starts and ends.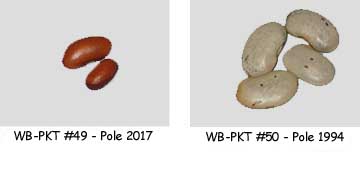 Please note the sample numbers in
RED
are not avilable.
BLACK
numbered samples are still available.
GREEN
numbers are still seed available but the person who took the first sample will be the one who gets to name the bean.
#23
,
#24,
#26,
#27
, #28, #29,
#30
,
#31
,
#32
, #34, #35, #38, #39,
#41
,
#42
#45,
#47, #48, #49
,
#50
Last edited: