Joined

Jan 12, 2013
Messages

2,342
Reaction score

5,143
Points

293
Location
Couple bean things. That Candy bean is pretty extraordinary @Bluejay77 , can you tell me anything about that bean, does it originate in your gardens? It is just so big and so colourful, what an unusual and highly productive bean. And for a bean so large it matures quite early. It is a winner all way round.
Candy originates in my early 1980's gardens. Named by me. It took me about 5 seconds for the name to literally pop into my mind when I first saw the seed. The seed mother of Candy is a bean that I originally acquired from John Withee's Wanigan Associates from Lynnfield, Massachusetts. Seed mother bean is Big Light Red Trout. Big Light Red Trout is also a True bush type. I was surprised to find in the next growing season that Candy has climbing capabilities. Big Light Red Trout has the long wide pods that Candy inherited. BLRT does not produce a lot of seed and what it does produce is not of good quality either. So when I saw the seed that Candy produces I was very happy indeed. I never listed Candy in Seed Savers Exchange until 2013 , but shared some of the early seeds with another Seed Saver Exchange member Ralph Stevenson of Tekonsha, Michigan. The bean spread to other members in subsequent years. There have been two listings in older issues of the SSE yearbook that confirms the origination of Candy with Russ Crow. I was suprised to see in Candy a bean that is of the cranberry class come out of a bean like BLRT. BLRT is a bean the originated in the bean collection of Ernest B. Dana of Etna, New Hampshire. Ernest donated the bean to Wanigan. When I saw BLRT in the Wanigan catalog. I ordered it. I have a feeling that Ernest donated some of the very first BLRT seeds he found as an outcross in his gardens then John Withee passed those first seeds to me probably being very busy with growing out other priority beans. I am of the belief that Candy was a segregation of BLRT. It amazed me that nobody not John Withee or Ernest Dana every came up with a bean like Candy since at least Ernest must of had some of original outcrossed seed that made BLRT.
Candy is in bean collections all over the world. Has been sold commercially by a Canadian Seed Co. (Annapolis Seeds, Nova Scotia) Candy is in the USDA bean collections at Pullman, Washington. The bean was donated to the USDA by Joseph Simcox. He thought it was an original bean of Robert Lobitz. Joseph Had visited me at my house one evening in November 2013 and asked me about Candy. Joseph had met Robert Lobitz one time at Robert's father's farm in Minnesota and Joeseph had donated a number of Lobitz beans to the USDA along with Candy.
So there you have it. The run down on Candy.
Big Light Red Trout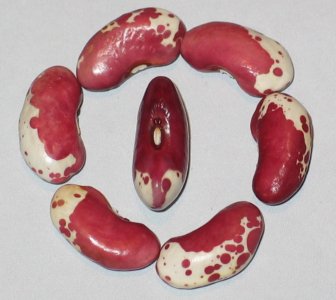 Candy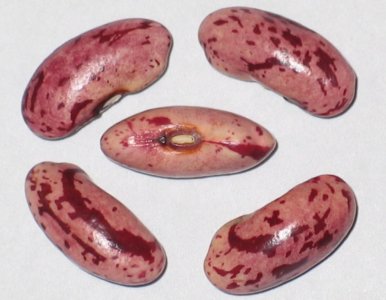 Last edited: