Joined

Nov 16, 2011
Messages

5,684
Reaction score

7,434
Points

377
Location
The Year Of The Mud... so far

Seed starting planned for this weekend on some 'cool weather' crops. I've never done those before, so this should be interesting.
But until then - anxiously awaiting Eva's calf.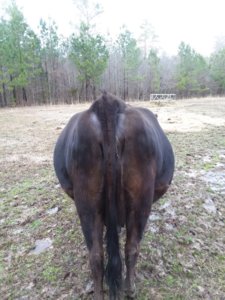 I was brushing her yesterday and got to watch it moving ALL AROUND in there! I tried to get a video but by the time I got back with the phone, it had gone to sleep. Anywho - this unflattering picture is: her dinner on the left side and baby on the right. She's got about 3 more weeks

This will be the first Summer Season that I've actually had the farm to myself... It's a
Weird
feeling to have been here 15 years and realize this. In all that time, it's not like anyone told me what to do or not do - but there is DEFINATELY a different FEELING knowing that there isn't someone watching (and, in my mind, judging) every move and every decision. Exciting times!
A LOT more picts coming soon so that I can track progress on several projects. And I'm sharing them here hoping that yall might just help to hold me accountable because some of these have been 'in the works' for a VERY LONG time. It's TIME they get done.
1. connect paddock & chicken pen fence
2. move water trough AWAY from the gate (what was I thinking???? poor planning!)
3. final expansion of chicken pen
4. move brooder out of the garden's space & into the chicken's
5. repair yard fence (broken boards & rotting posts)
6. finish prepping the rest of the expanding garden area
And.. of course, grow the most productive and beautiful summer garden EVER!

Along with all this, I'm seriously considering a couple dozen meat chickens ... and MAYBE a couple of pigs. But we'll see.